One of the factor that put a family in risk of domestic violence is an insolation, physical as well as social. The family, living in a remoted area or in a closed community might be out of reach of the gaze of neighbors and social services, which could react if something goes wrong. But the family can be isolated even if it is surrounded from all sides by people. Migrants families mostly are in this situation. They cannot often speak the local language well, do not have a wide social network. It is easier than for a violator to hide something and more difficult for victims to call for a help. The current circumstances only amplified this situation.
Before people experiencing domestic violence saw aggressive partners or parent(s) mostly just for a limited time per day; they could find at least a bit of reprieve when they needed to go out to work, school or when the partner was out for those reasons. Now they are convicted to spend with each other all the time, in closed, often too small spaces. What is more, the social and economic situation, uncertainty about future and being cut off from the outside world, causes an increase of this tension, which the aggressor will try to pour out on the home dwellers. Isolation from the outside world and often permanent control of communication channels makes asking for help even more difficult. Especially for women and children as they mostly become victims. The corona-virus already placed a lot of countries under a lockdown. These countries provide evidence that home is the safest place to protect yourself during the pandemic disease, but not when you are locked in with a partner who threatens you. This can be physical violence, sexual violence, emotional psychological abuse or controlling or dominant behavior towards the partner. A partner can be a great support, but unfortunately, however scary it sounds, women are exposed to violence much more after they got married. According to WHO, already before the pandemic, women in general were mistreated mostly by a partner or an ex-partner, and because of the quarantine, most people are forced to stay at home 24/7 exactly with them. In China, for example, the number of reported cases of domestic violence has tripled, in Kyrgyzstan it raised about 63%.
Children experiencing domestic violence are the most vulnerable group. First of all, they are much less resilient than adults. According to professor I.S. Berdyshev, sometimes until adolescence, the child perceives himself and his parents as one. For a very long time, a child has a tendency to mix his feelings with the experiences of his parents. If in front of the child's eyes, the father speaks to the mother of children rudely, then for the child this is a critical situation. It is especially scary when the father beats the mother in front of the children. Normal children's psychology should not and cannot tolerate it, underlined the professor. About so-called PTSD among children experience domestic violence are written the whole volumes. But children can be directly involved in the violence too. Then, even if one guardian is using violence toward a child and the other one does not react or is unable to cope with the situation, the child is practically defenseless. There is almost no way for the child to leave the house; in some countries young people under 18 cannot leave the house without an adult guardian. They do not go to school, so the only adults who they now see and could ask for help are parents. The specialist working with children observed a huge increase of suicide thoughts and even suicides self among teenagers, even from the rather prosperous families. What then when we add suffering connected with domestic violence? Additionally, according to many national laws, mothers and children are seen as a unity. What if mother fleeing from aggressive partner is aggressive toward her child? Moreover, in some countries, the institutions and organizations that normally were occupied with the aid of women and children experiencing domestic violence, now are heavy overloaded due to additional cases as well as staff under the quarantine. Or, like the police in some parts of Italy, they are often forced to handle only the issues directly connected with the virus, or like e.g. in Belgium and Poland, do not want to intervene because they afraid to get contaminated. In some countries, they have never worked well. In Russia, currently the arrests as a preventive measure for those who commit violence are totally suspended.
This does not mean, however, that the situation is without a solution and we are obliged to accept the growing number of victims and the inability to help them, even among the most vulnerable groups. ADC Memorial decided to collect ideas and practices for people wishing to help in the time of crisis. The ideas would be presented on the experience of migrants' communities in Belgium, but it can be applied on almost group with a bit of adjustment.
So-called 'blue line' in the migrants' mother language could be open – the first contact line with specialists working on domestic violence issues. Moreover, if it is needed, a caller could be subsequently redirected to a psychologist or a lawyer also specialized in this area, if they are available. It's important to have a blue-line for the people experiencing domestic violence, because for them taking a decision to call is very difficult so they need to be heard when the psychologist or lawyers are occupied. Besides, talking with a psychologist or a lawyer can be a barrier for the first time callers. Furthermore, very often these people only need to be listened in order to feel relief and not feel abandoned. Webinars for women who are mistreated in their relations can be organized. Women can watch the webinar on Facebook and ask online some questions. Important is to remember to be cautious in choosing a title for a webinar and words which would be used during the presentation. The partner could be listening or at least checking what his partner is watching. It should not consist of a world 'violence' and anything directly connected to this word.
Not all women will have possibility or will like to participate in one of these actions for different reasons. But all of them need emotional support. Anyone who knows someone who experiences violence can contact him/her by e.g. sending a text message. One shouldn't mention the violence in this message, but can show in a specific way he or she remembers and supports this person. Emotional support is very important to mentally survive the quarantine. If the health and the live is in direct danger, one should of course persuade a victim to run away. But in other situation, "logical" advices like 'leave him', 'he is bad' would not help. The person experiencing domestic violence should self realized that her relationship is toxic.
In some local supermarkets, bakeries, etc. some very graphical posters can be distributed about domestic violence and how to psychologically survive it in the time of the pandemic. Together with a pharmacy, it could be the only places where women or children can freely go at this time. Regarding the pharmacy, in Belgium as in some other countries the code "mask-19" is widespread, which should discreetly signal to the pharmacist that help is needed.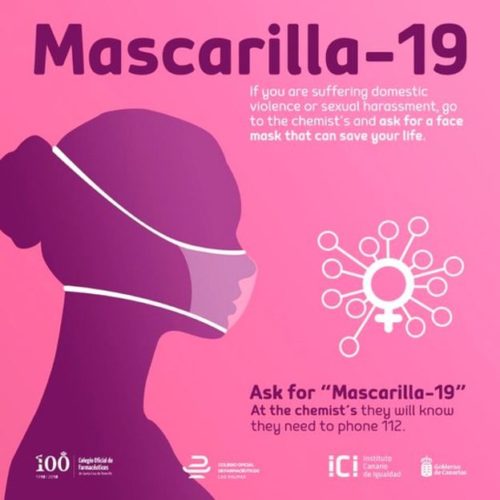 There remains a problem where to run to during quarantine, when this would be necessary. Especially for immigrants, as their social network can be very limited or in some traditional communities there might be some kind of silent agreement about mistreating women or children. Most of the countries offer a shelter for people fleeing domestic violence, but due to a drastic increase in the violence during the pandemic, there is no more space in these centers. There is not only more aggrieved women, but the rotation in the centers has stopped as it is difficult now for women and children to rent something else. And even worse, many of the shelters are forced to be closed due to anti-corona measures.
Children cannot count on a safe space too. In Russia, on April 13, the decree of the Chief Sanitary Doctor Natalia Bashketova "established a ban on the admission of new patients to institutions of social protection of the population of a stationary type, transfer to other institutions". Institutions of social protection of a stationary type are understood as children's homes, orphanages, boarding schools, nursing homes and others. What is then in Russian with children who need a new 'home' is not known.
In Belgium, France or Spain this problem has been solved by transforming on the demand of the authorities' hotels into shelters. Some of the Airbnb owners have also offered its property for these reasons during the quarantine. While it might be quite difficult for activists to find a hotel, if the government would not have done it yet, it might be a good option to try to persuade friends who, for example, rent an Airbnb apartment to provide their premises to centers for people fleeing domestic violence. Due to the complete standstill of tourism, their premises are empty anyway.
In order to provide a child a channel to report his situation, extra chats and possibilities to receive a text messages should be activated. The child can use them without making a noise. In grocery stores and pharmacies there should be not only posters aiming to help women but also children. Employees of these stores should immediately call the responsible institutions asked by children for help. Last but not least, as the adults experiencing domestic violence often wreak their emotions on children, specialists working with them should touch upon this problem, show the circle of violence and help to stop it. Children should be taught that they can knock the door of the neighbor who they like or call the police if it is very bad. All Tv-channels that children watch should spread this message.
Of course, people need to know about help on which they can count – the target group should be informed. It is important to look at the channels where it is mostly present and to focus on these communication means. Nowadays, people have a wide access to the internet, social media and all kinds of virtual communicators; a lot of social media users are members of closed groups of migrants from a particular region or working in a particular big company. It is believed that word of mouth can reach the rest, although it can be constricted in the time of quarantine.
United activist organizing a help center should have their own page on social media and the website, even simple one. The help center should be easy to reach. Phone helpline, chat, e-mail and in the time of crisis even SMS. Some organizations, mostly helping young people, noticed a drastic increase of cries for help via SMS, because it was impossible for these peoples to make a phone call when their aggressive guardians were all the time around.
It can be useful to find official partners too, for example Crisis Center, whose staff should be normally interested in the initiative because it is also for them of high importance that national minorities understand its message. The activist can run the informational campaign about the crisis and the measures taken by the government in the mother language. Not all immigrants know the official languages enough to understand these measures.
The time of the worldwide corona-crisis is difficult for everyone, although in a different scale. But it also shows an enormous amount of solidarity between people. If only enough people have just a bit of free time and good will, they could do something for the people around who are in more complex situation. Let's us hope to find more people like that.
Patrycja Pompala