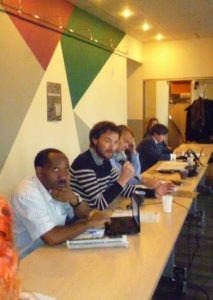 Round table "Challenges and possibilities for diversity on the eve of FIFA World Cup 2018 in Russia" was held as part of FARE (Football Against Racism in Europe) "Football People" action weeks against discrimination in football on October 10, 2014 in Saint Petersburg.
This event was devoted to problems of discrimination in football, as well as to creating possibilities for cooperation between various public associations, state organizations, football clubs in order to establish a tolerant and safe environment at the FIFA World Cup 2018. During the round table issues of security at the stadium terraces during the World Cup were discussed, as well as the problems of preventing activities by ultranationalist fans and youth groups, which possess potential threat to the participants and guests of the World Cup, cooperation between state organizations and football clubs with minorities, etc.
Inessa Sakhno, expert of ADC "Memorial", spoke about football as a means of integration for representatives of minorities, stressing the necessity of holding special integrative events. She gave examples of positive practice of inclusion of minorities in social life through football: ADC "Memorial" held football matches in Saint Petersburg and Leningrad region for children from Roma and immigrant families on numerous occasions.
Pavel Klimenko, FARE coordinator for Eastern Europe, made an overview of FARE activities in dealing with the problem of discrimination in football and shared experience in preparations for and organization of UEFA Euro-2012 football cup. On the eve of the cup football fields were set up in the centers of different Polish cities, which encouraged people to play football, but also helped to spread information aimed at fighting against discrimination. Stewards engaged in securing football stadiums were instructed about discriminatory symbols and trained to deal with people of different nationalities, while posters were put up in public places promoting football events as "territories of diversity" and respect for people of different ethnic backgrounds. The issue of presence of runic symbols and imperial flags on the terraces of stadiums was hotly debated by the representatives of the Russian Football League, National Football League and the fan clubs of Zenit (Saint Petersburg).
Natalia Yudina, expert of Information and analytical center "Sova", reported on monitoring of discrimination at the football terraces in Russia between 2012 and 2014. She reported at least 93 cases of racism on the football terraces over the last two years, as well as the problem of overlapping between football fans with neo-Nazis. Igor Pavlovich, representative of Zenit FC, and Denis Kulikov of the Saint Petersburg city committee of physical culture and sport asked questions concerning statistics of attacks against ethnic Russians, while Saint Petersburg ombudsman Timur Nadtochey inquired about cooperation between Russian Football League, Zenit FC and law enforcement agencies, stressing the need for such cooperation to be improved.
Krzysztof Jarymowicz (Ethnoliga, Poland) and Dmitry Matveyev (Inter-ethnic Football League, Saint Petersburg, Russia) shared their positive experiences of cooperation with FARE network. Round table ended with a discussion about the challenges and possibilities of FIFA World Cup-2018. Representative of Saint Petersburg ombudsman's office proposed to organize a series of meetings in order to define the list of necessary measures aimed at fighting against discrimination in football and those who will be responsible for their implementation.