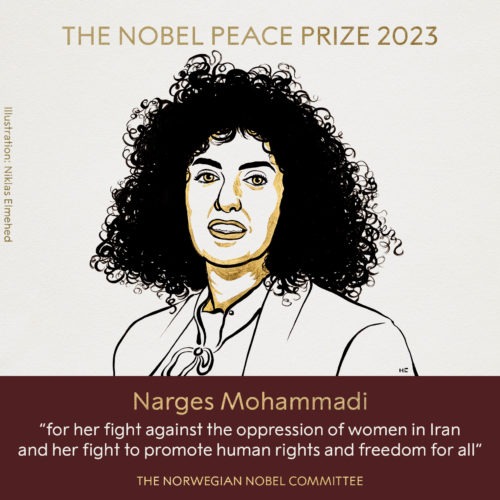 In awarding Ms Mohammadi the prize, the head of the Nobel committee noted that she fought for women against systemic discrimination and oppression.
Narges Mohammadi is a journalist and spokesperson for the Iranian human rights NGO Defenders of Human Rights Centre (DHRC). She has campaigned for the abolition of death penalty in Iran, and was awarded the Per Anger Prize by the Swedish government for her human rights work in 2011. The Iranian regime has arrested her 13 times, convicted her five times, and sentenced her to a total of 31 years in prison and 154 lashes.

Mohammadi is still in prison. Right now she is sentenced on the charge of "propaganda against the system" for expressing her support for the right of the people during the 2022 anti-government protests, for "assembly and collusion to act against national security" and "acting against national security and disrupting public order".
Congratulations to the brave human rights defender and political prisoner Narges Mohammadi on her award!
We wish her and all women in Iran freedom and the realization of their rights!