Эта запись так же доступна на: Russian
On 30th November, 2012 in press-club "Green lamp" the presentation of two new publications of ADC "Memorial" – human rights report "Roma, Migrants, Activists: Victims of Police Abuse" and "Experience of protection of the right toprotest: Saint-Petersburg, 2010-2012" – took place. The reports analyze the situation of violation of migrants', Roma's and activists' rights in Russia as well as experience of protection of rights for peaceful protest. After the presentation and discussion, the documentary "Winter, go away!", which is about protest rallies and demonstrations happened last year, was shown.
Participants of the discussion: StefaniaKulaeva, ADC "Memorial" program leader, editor of presented reports; Igor Kochetkov, human rights activist, leader of "Russian LGBT-net", Sergey Golubok, lawyer; Tatiana Chistova, film director; journalists and the audience.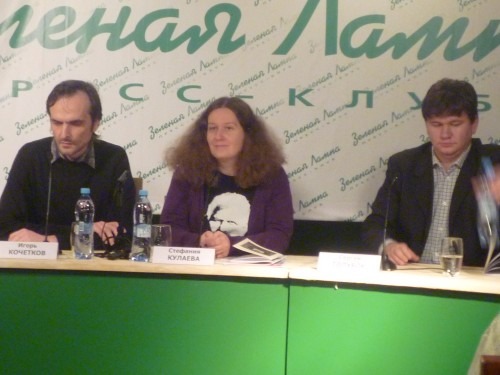 HumanrightsreportsPDF:
Цыгане, мигранты, активисты: жертвы полицейского произвола
Опыт защиты права на протест: Санкт-Петербург 2010-2012
Relatedlinks:
Дискуссию на тему «Опыт защиты права на протест»