The confinement of foreign nationals in a temporary detention center pending expulsion is a common practice in the Russian system of administrative law. Detention terms in these centers depend on how quickly bailiffs can execute documents giving foreign nationals the right to return to their home country (this usually takes several weeks). However, expulsion may become impossible when mistakes with the personal information of foreign nationals are made in court documents; in these cases, detention can become indefinite.
Migrants are often stopped on the street for document checks and may not have their passports or migration cards with them. This is generally enough for police officers to suspect them of violating residence rules, write up an administrative protocol, and send them to court.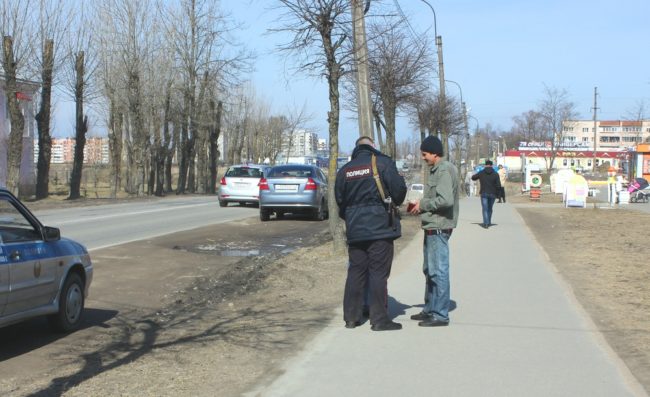 In cases when a person who has been arrested does not have documents on them but is suspected of an illegal act, Russian law specifies that their identity must be established. This laborious procedure involves interrogations, witnesses, and inquiries by various authorities. A foreign national cannot be expelled or deported unless their identity is established. However, police officers frequently fail to do this when arresting migrants and instead write up reports from the migrants' oral statements, often with mistakes (and there are also cases where the arrestees provide names that are made up or belong to another person). These reports are then forwarded to courts as is. The court may find the mistake and defer consideration, or it may state that it has no grounds for not trusting law enforcement officers and issue a decision on expulsion. These decisions are illegal and should be overturned, but this does not happen in practice and costs migrants many months of liberty because administrative law lacks a norm for correcting mistakes in an accused person's personal documents that are made by the court.
One year of imprisonment due to mistakes in a report
On November 1, 2019, the Third Cassation Court of General Jurisdiction considered the appeal of K., a citizen of the Republic of Cameroon, to a ruling on expulsion for overstaying his term of residence in Russia. K. spent one year in a foreign national detention center with no hope of returning home only because he did not have his documents on him when he was detained by the police and a migration service officer misspelled his name in the report. A judge of the Kuybyshev District Court of Saint Petersburg, which considered K.'s case, concluded that there were no grounds for not trusting the law enforcement officer and the procedural documents he submitted and found K. guilty. On November 6, 2018, K. was confined in an FNTDC pending expulsion. However, when the court bailiffs attempted to execute the court decision, they found it impossible to do so: The repatriation certificate received from Cameroon's embassy listed K's actual name, which differed from the misspelled name in the court ruling. To resolve this problem, the court bailiff filed an application with the Kuybyshev District Court of Saint Petersburg to amend the ruling, but this application was denied because the Code of Administrative Offenses does not have any norms that allow for changes to the identification documents of individuals prosecuted from administrative offenses.
In the practice of administrative courts on cases related to administrative violations, there is still no clear opinion on the permissibility of correcting identification data in court decisions. Even though a procedure for correcting errors, typos, and other mistakes in court documents in administrative cases is envisaged in Article 29.12.1 of the RF Code of Administrative Proceedings, the majority of judges state that mistakes in the identification data of guilty persons cannot be eliminated even if these mistakes entail serious human rights violations, since correcting mistakes changes the content of the court decisions and makes them incompatible with other documents in the administrative case. In rare cases, ADC Memorial attorneys have succeeded in having mistakes corrected and avoiding deportation, but it takes several months for these decisions to be handed down.
After one month of confinement in the FNTDC, K. turned to ADC Memorial for assistance. The decision on expulsion was appealed with the Saint Petersburg City Court, and then with the chair of the city court. The judges agreed with the defense's argument that K.'s identity was not established correctly, but they refused to recognize that deprivation of liberty in an FNDTC without the possibility of expulsion is a human rights violation. The appeal was denied, and K. was left without any hope for release.
Even though the court decision had already entered into force, in October 2019 K.'s defense attorneys filed an appeal with the Third Cassation Court of General Jurisdiction. After considering the appeal, on November 1, 2019 the court concluded that the first and second instance courts did not meet the requirements for a full, comprehensive, and objective consideration of the case and that the decision to expel K. and confine him in an FNTDC could not be recognized as lawful. The decision of the Kuybyshev District Court was reversed, and K. was finally released.
This example illustrates the limitations of procedural opportunities for foreign nationals in confinement who have no opportunity for release, even when an illegal decision is adopted in relation to them.
A similar story occurred with A., a Tajik citizen who was confined in an FNTDC pending expulsion in August 2017 with no indication of the concrete term of his sentence. When the Gatchina City Court issued its ruling, it made a typo in A.'s date of birth that prevented his expulsion. FSB Border Service officers would not allow A. to cross the border because the date of birth listed in his passport did not match the date of birth listed in the court ruling. A. was held at the FNTDC until February 2018. His appeal to the Gatchina City Court asking the court to change his identification data was not granted. However, the second instance court did rule to correct the mistake in his birthdate and A. was expelled to Tajikistan.
ADC Memorial is currently handling the case of R., a citizen of Turkmenistan who gave a different name when he was arrested and has been in confinement since September 2018. The expulsion ruling was appealed, but the court has refused to correct the mistake and reconsider the previous decision.
Holding a foreign national in an FNTDC without any prospect for expulsion is a gross violation of the right to liberty and security of person envisaged in Article 5(1)(f) of the European Convention on Human Rights and Fundamental Freedoms. In 2014, the European Court for Human Rights issued a judgment in the case of Kim v. Russia under which the Russian Federation was found guilty of violating a number of articles of the European Convention, including Article 5(1) (excessive length of detention and impossibility of expulsion) and Article 5(4) (violation of the right to appeal and the right to judicial review over the lawfulness and length of detention). The ECtHR required Russia to take measures of a general nature to correct the situation in order to prevent similar violations in the future. This should have put an end to the practice of issuing obviously unenforceable court rulings on the confinement of foreign nationals whose personal information has not been established, as well as stateless persons
Unfortunately, Russia has still not taken any general measures to implement the ECtHR's judgment in relation to stateless persons and other prisoners at FNTDCs and has not made any systemic changes to laws and law enforcement practices.
Arbitrary decisions on confinement in an FNTDC can even be issued in relation to Russian citizens
Sometimes, however, court bailiffs execute expulsion orders speedily in spite of mistakes or discrepancies in personal data. There have been cases when people were even expelled during the appeals process because their guilt had not been established.
For example, in January 2018, migration service officers in Saint Petersburg detained I., a citizen of Georgia who did not have his documents on him when he was stopped. Officers established his identity only on the basis of his own words and listed him in the case file as citizen of Azerbaijan A. Law enforcement officers did not conduct any additional procedures to establish his identity. The court where I. was taken after the report was drawn up also refused to establish his identity and imposed a fine and confinement in an FNTDC pending expulsion on what was essentially an unidentified person.
Once he was in the center, I. confessed to providing incorrect information about himself. The court bailiffs then contacted the Embassy of Georgia and obtained a repatriation certificate. The bailiffs also asked the court to amend the expulsion order, but the court refused. I.'s lawyer finally succeeded in getting the order cancelled after 11 months, which I. spent in the FNTDC. However, it was later found that I. was expelled a week before his court hearing under an order that the court issued in relation to a completely different (and possibly non-existent) person, a citizen of a different country whose guilt had never been established.
An even more absurd decision on confinement in an FNTDC was adopted by a Saint Petersburg district court in relation to Russian citizen N., who obviously cannot be expelled.
In February 2017, N. was found guilty of violating migration rules and sentenced to a fine and expulsion to Turkmenistan, which the court believed her to be a citizen of. In October 2017, the Embassy of Turkmenistan in Russia reported that it did not have any information that N. was a citizen of Turkmenistan and refused to issue a repatriation certificate. Her attorney later established that the deportation order had been issued in relation to another person and that N. was actually a citizen of Russia and a native of the Republic of Bashkortostan, as confirmed by a copy of her passport and other documents. N. was held in an FNTDC until late January 2018, when the Saint Petersburg City Court reviewed her appeal and ruled to release her. However, in spite of her Russian citizenship and the decision of the first instance court that was issued in error, the expulsion was unbelievably not cancelled and was instead replaced with "independent controlled departure" from Russia. N. is now free, but the court decision on her "independent departure" remains in place, even though it has no legal or attainable purpose.
Health problems – no reason for a lighter sentence
The majority of FNTDCs lack conditions for holding seriously ill or disabled people. These centers are generally not accessible and they do not have licenses for providing specialized medical care, which means that people with illnesses requiring special treatment cannot be held there. Nevertheless, this has not prevented judges from issuing expulsion orders with confinement in an FNTDC in relation to foreign nationals in poor health.
One person who contacted ADC Memorial for protection of his rights was M., a citizen of Moldova who could not move on his own and needed special care, treatment, and regular monitoring by doctors. On May 11, 2018, M. was found guilty of overstaying his deadline for leaving Russia and was fined 5,000 rubles and sentenced to administrative expulsion with confinement in the Saint Petersburg FNTDC. At the time the sentence was handed down, M.'s identity had not been properly established, making it impossible to execute the court decision.
M. overstayed his time in Russia because of his worsening health, but the court indicated in its decision to place him in the FNTDC that M. was trying to avoid leaving Russia and that it was imposing this punishment to prevent him for committing new administrative violations.
The argument that a foreign national might attempt to avoid executing a court decision without being placed in custody violates the presumption of innocence enshrined in Article 1.5 of Russia's Code of Administrative Offenses and contravenes the position of the Constitutional Court, spelled out in the case of N.E. Mskhiladze, which is that placement in an FNTDC is not a separate punishment, but a measure for executing a deportation order and, as such, requires proof that the deportation order cannot be executed without deprivation of liberty. The court ruling did not take M.'s state of health into account and did not prove the necessity of depriving M. of liberty for an indeterminate period.
M.'s attorney filed an appeal with the Leningrad District Court several days after M. was placed in the FNTDC. The appeal contained a request to consider M.'s state of health and the unacceptable detention conditions and release him. The attorney also submitted testimony from the center's deputy warden to the effect that the center lacked the required conditions for holding disabled people and did not have a license to provide special medical care, meaning that disabled people like M. could not be held there. After reviewing the appeal, the court set aside the important comments and testimony of witnesses, but still ruled to release M. because of violation of the requirements for establishing identity. In this case, the negligence of the first instance court, which ignored the mistakes with M.'s personal information, helped human rights defenders get the decision changed to a more humane one. However, this still cannot be called a success, because the court disregarded evidence of the unlawfulness of confining severely ill people in FNTDCs. This means that M. and other severely ill people could end up in an FNTDC again.
There is still no practice of compensating for illegal confinement in an FNTDC
Russian law contains a norm that allows an individual under arrest to demand compensation from the state for emotional harm if a case is ended in connection with the absence of an element of a criminal offense. This norm does not stipulate the minimum or maximum amount of compensation, but it does provide a guarantee that deprivation of liberty will be compensated with some amount of money. This is not the case with compensation for harm caused by illegal confinement in an FNTDC. Under the law, deprivation of liberty in an FNTDC is not an independent type of punishment, but is instead a protective measure prior to expulsion.
Separating confinement in an FNTDC out into a stand-alone form of administrative punishment could provide an important guarantee for innocent prisoners and keep law enforcement bodies and courts, which are often casual about the procedure for establishing the identity of people accused of violating migration rules, in line. But it's hard to see how laws in this area can change quickly when the Russian government continues to ignore recommendations the ECtHR made five years ago to improve detention conditions and provide judicial review over the length of detention and the need for deprivation of liberty.