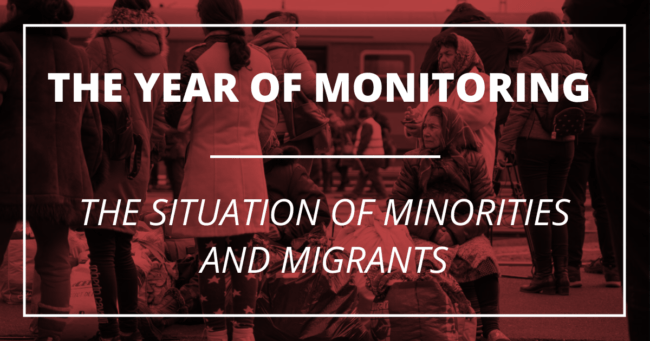 For the past year, ADC Memorial has been monitoring the many violations of the rights of people belonging to groups vulnerable to discrimination in war situations. The military aggression of Putin's regime caused tremendous suffering to all inhabitants of Ukraine from the very beginning, but made life even more difficult for those who were discriminated against even before the war. By unleashing the war, the Russian authorities have de facto created a state of emergency that allows legal institutions to be curtailed under the pretext of protecting the state from foreign and domestic enemies. While engaged in active confrontation with the West and threatened by economic collapse caused by the war and sanctions in response to it, the Russian authorities are intensifying their repression of dissenters. To avoid increasing public discontent with the ongoing war, losses, and crisis, the authorities are focusing their efforts on mobilizing conservative forces through irresponsible right-wing populism. Vulnerable groups, such as ethnic minorities and migrants, are the first to suffer from these political changes.
One year later, we summarize the results of the monitoring project in a report on the impact of war and crisis on minorities and migrants.
Crimean Tatars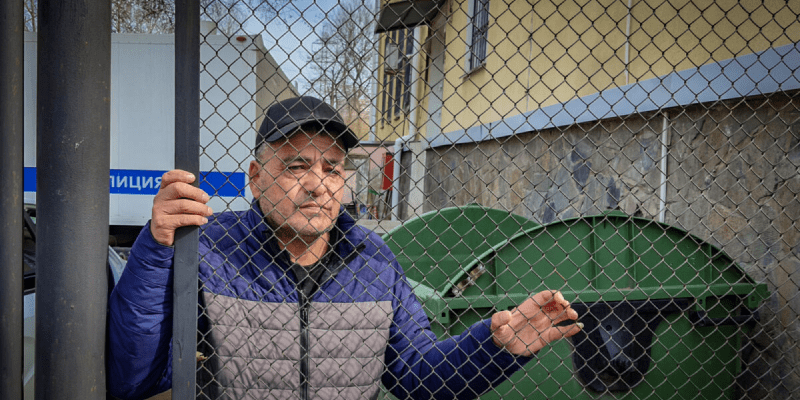 One of the most vulnerable ethnic groups in the region during the war are the Crimean Tatars. They faced repression as early as 2014, immediately after the annexation of Crimea by the Russian Federation, which forced some community members to flee to Ukraine. The Russian invasion of Ukraine in 2022 has led to further repression, both within Crimea and in the newly occupied territories adjacent to Crimea.
Repressions in Crimea
Shortly after the war began, the Russian Federation implemented a law that imposes up to 15 years of imprisonment for spreading false information about the Russian military's actions. This law has made dissent in Crimea even more dangerous. According to the Crimean Tatar Resource Center (CTRC), between February and September 2022, Russian security forces conducted 25 searches, 108 detentions, and 124 interrogations or "conversations" in Crimea. In the first nine months of 2022, 138 people were arrested in Crimea, with 104 of them being Crimean Tatars who opposed the Russian occupation and military aggression. The CTRC staff noted that security forces mostly targeted Crimean Tatar representatives, and this has become a systematic practice in Crimea.
Repressions in the Occupied Territories
On March 10th, a group of seven Russian soldiers forcibly entered the home of Leyla Ibragimova, an ethnic Crimean Tatar, who also serves as a deputy of the Zaporizhzhya Regional Council and director of the city museum. According to reports, the soldiers covered Ibragimova's head with a bag, forced her into a car, and took her to an undisclosed location for interrogation. During the interrogation, they questioned her about the local Crimean Tatar organization "Azad" and demanded the names and addresses of activists and opinion leaders in her area.
The occupying forces have been focusing on Crimean Tatar activists suspected of being part of the Noman Chelebidzhikhan Volunteer Unit. Although the activists claim that the battalion does not exist, Russian authorities believe otherwise and consider it an illegal armed group that poses a security threat. As a result, those accused of being associated with the group face the possibility of long-term imprisonment.
On April 4th, it was reported that Rustem Gugurikov, a Crimean Tatar from Kherson Oblast, had been arrested on suspicion of being involved with the battalion. By the end of April, there were reports of systematic detentions of Crimean Tatars in the Kherson and Zaporizhzhia regions. According to the head of the Mejlis, the executive commission that represents the Crimean Tatars, Russian military personnel detained and transferred Crimean Tatar activists to the territory of Crimea, where they were held in the Simferopol detention center. In May, new reports emerged of Crimean Tatars being held in the Simferopol pre-detention center. Since August 2022, courts have started issuing indictments on these charges.
Conscription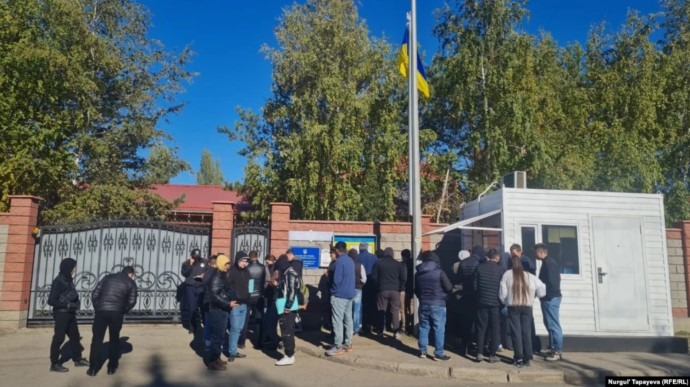 The "partial mobilization" implemented as part of Russia's military aggression in Ukraine worked out as a form of repressive policy towards the Crimean Tatars. Despite comprising only 13-15% of the peninsula's population, sources indicate that Crimean Tatars received 60% to 90% of all summonses for army service issued in Crimea.
The widespread conscription resulted in a surge of Crimean Tatars leaving the peninsula. Many relocated to Central Asian countries where their relatives had been deported by the Soviet authorities in 1944 and where they still have relatives or acquaintances. Those who departed from Crimea referred to it as "self-deportation."
Ukrainian Roma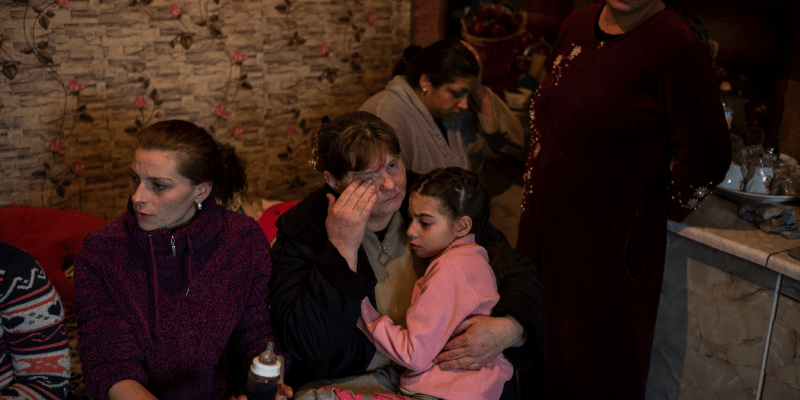 In Eastern and Central Europe, the Roma are one of the most vulnerable ethnic groups, facing a range of specific problems and social stigmas. According to human rights activists, the Russian invasion of 2022 forced around 100,000 Ukrainians of Roma origin to leave their homes. The war disrupted Ukraine's fledgling system of assistance to Roma, undoing years of efforts by human rights defenders and activists. This has exacerbated problems characteristic of Roma communities, including lack of documentation, insufficient education, poverty, and the risk of racist violence. Often fleeing the horrors of war to safe territories, Roma faced xenophobia and rejection, with incidents reported both within Ukraine and in EU countries.
The Gender Dimension of the Problem
Roma women were especially vulnerable to the challenges brought about by the war. In traditional Roma communities, women were responsible for managing the household, cooking, and caring for children. They had to find ways to survive in a situation of war and daily risks of violence by armed groups. Furthermore, the lack of documents affected women from traditional Roma communities disproportionately.
In Ukraine
Difficulties of evacuation
Even before the war, the lack of documentation often prevented Roma from enjoying social and economic rights. However, under wartime conditions, this problem became particularly acute as identity cards were frequently required to cross checkpoints and borders.
Another factor that complicated evacuation from the war zone was poverty. Many Roma simply did not have enough money to travel long distances to safe areas. For instance, after the outbreak of military actions, the travel costs from occupied Melitopol to Ukrainian-controlled Zaporizhzhya increased to 5,000 hryvnia per person, compared to only 200 hryvnia in peacetime.
While undergoing the evacuation process, some Roma encountered xenophobia in addition to the challenges of being refugees. Informants reported that some Russian military personnel displayed xenophobic aggression towards them, stating "they did not like that we were Roma." Unfortunately, hostility was sometimes exhibited not only by the occupying troops but also by the local Ukrainian population. There is evidence that residents refused to allow Roma into the basements of their homes, which were used as bomb shelters. Human rights activists have also heard accounts of train conductors denying Roma access to trains because of their ethnicity.
Remaining under occupation
Roma who were unable to leave the occupied territories encountered the same challenges as other Ukrainians: violence, looting, deadly wartime dangers, and shortages of goods. Occasionally, Roma faced even greater aggression from Russian military personnel due to their ethnicity. Furthermore, the poverty within Roma communities and their specific employment situations made their circumstances even more arduous. For instance, in one of the Roma communities located in the Kherson region before the war, the primary means of earning a livelihood was through day labor in the fields, harvesting onions. However, after the occupation, these individuals were left without any sources of income.
Outside the Occupied Territories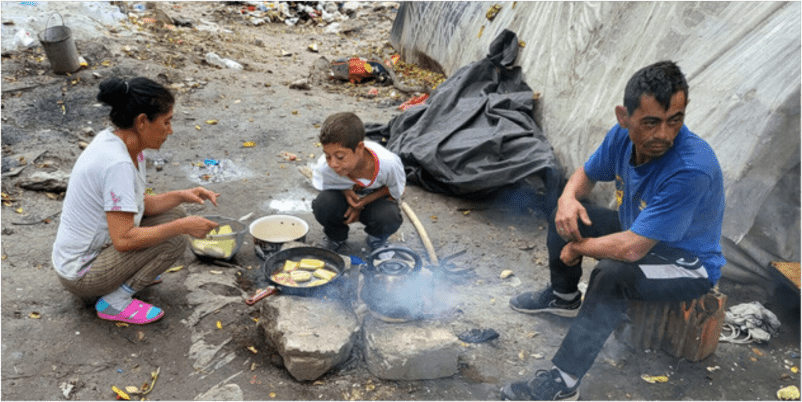 After leaving the war zone, Roma continued to face various challenges. For instance, during a European delegation's visit to Kiev, Lviv, and Uzhgorod in July, they discovered that conditions in many Roma refugee settlements were unacceptable. The delegation was especially appalled by the living conditions in a camp located in the woods near Lviv. In this camp, approximately 1,400 Roma, most of whom were children or young people, were forced to survive without basic necessities such as water, electricity, proper housing, healthcare, or adequate infrastructure.
Roma frequently experienced discrimination during the distribution of humanitarian aid, and accessing refugee centers posed additional challenges. For instance, in Lviv, Roma had to seek shelter in a Catholic parish because state institutions had denied them access.
The discriminatory attitude towards Roma by the state bureaucracy presented another problem. Roma community members reported that "passport offices, registry offices, and migration services do not want to accommodate Roma, even despite the ongoing war, and make the process of obtaining documents as difficult as possible. Government agencies remain silent about the simplified procedures and require personal attendance."
Access to education became another significant issue, with the already challenging situation worsening considerably. Due to the fighting and constant shelling, many schools have switched to distance learning, which further reduces access to education for children from the most marginalized Roma communities.
Through Russia
Cut off from western Ukraine by the fighting, some Roma families were forced to flee to Russia, which was their only option to save their lives. Later, with the aid of volunteers, they made their way to Europe. While heading towards Russia, the refugees faced numerous dangers due to the ongoing war and were subjected to inspection at multiple checkpoints. In Russia, they encountered difficulties earning a decent living due to the unwillingness of Russian employers to employ Roma. One informant reported that a group of Roma refugees was detained by Russian border guards while crossing the border into Estonia. The police applied pressure on them and did not release them until the following day.
Problems of Roma refugees from Ukraine in Eastern and Central Europe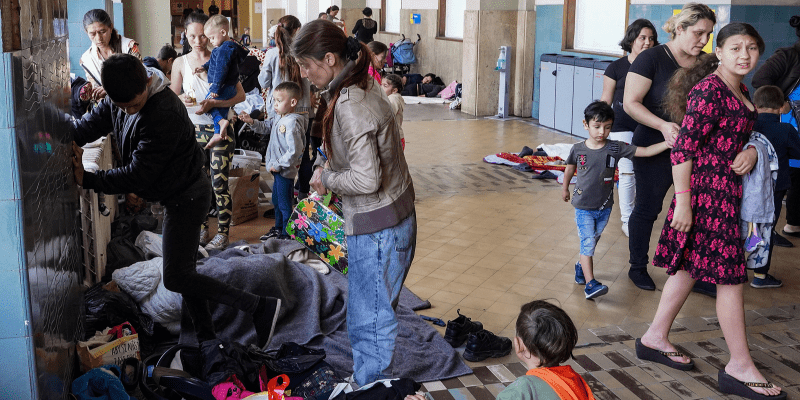 Unfortunately, even after reaching the territories of neighboring secure states, Ukrainian Roma found themselves in vulnerable situations. Reports have emerged from various refugee-hosting countries of harassment and discrimination against Roma when attempting to cross the border, enter refugee centers, or receive humanitarian aid.
According to a report by the European Centre for Human Rights (ERRC), Roma children accompanied by adult family members other than their parents are often denied entry into Moldova and EU countries. Additionally, undocumented Roma have also been refused entry.
Czech Republic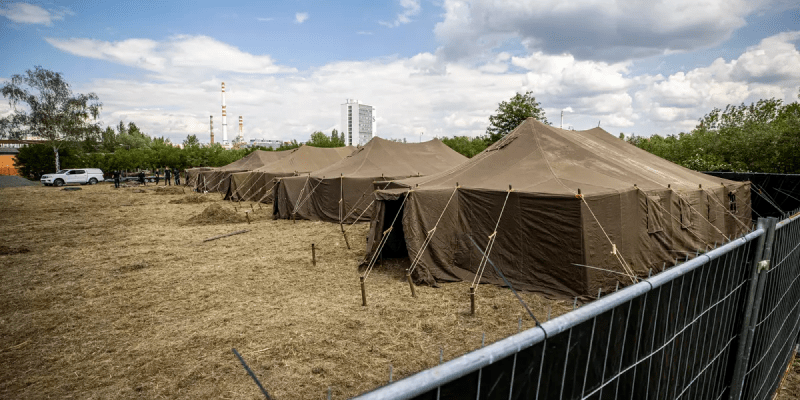 The Czech Republic is not exempt from discriminatory treatment of Roma. As early as March 6, volunteers from the Czech Help initiative reported instances of discrimination against Roma. Specifically, they claimed that some Czech hostels were unjustifiably evicting Roma who had fled from Ukraine.
In April, the news portal Romea.cz reported that Ukrainian Roma were placed in a separate area, cordoned off by tape and overturned tables. According to volunteers, Roma were not permitted to leave the designated area and could only use the restroom when accompanied by staff from the center. Additionally, the governor of the Moravian-Silesian region, Ivo Vondrak, accused Roma refugees of theft.
In May, the Czech Republic tightened its rules for accepting refugees from Ukraine, denying temporary protection to individuals with EU citizenship. The new restrictions primarily affected Transcarpathian Roma, who often lack Ukrainian citizenship but possess Hungarian passports. The Minister of the Interior announced his intention to deport Hungarian citizens, particularly Roma, who were staying at the central station in Prague. However, by June, a compromise had been reached. The aid station at the station was closed due to overcrowding, and a tent city was set up in a district of Prague to house Roma refugees from Ukraine.
The situation in the Czech city of Bilina was less favorable for the Roma refugees. In June, the mayor of the city stated that she would not allow Roma from Ukraine to settle in her city, citing the difficult socio-economic conditions in the region. She also used the term "unadaptable" to describe the Ukrainian Roma, a term previously used by the Nazis during World War II to refer to the Roma population. In late July, the Czech Interior Ministry's Office for Refugees gave in to the mayor's racist remarks and abandoned its plans to house Roma women and children in the city.
It is worth noting that attempts by some Czech politicians to take advantage of anti-Roma populism have met with organized resistance. For example, in May, during a meeting in the Chamber of Deputies, a far-right politician made racist remarks about Roma refugees from Ukraine, prompting Czech ministers and parliamentarians to leave the meeting. Subsequently, the chairman of the Czech extreme right-wing party spoke out against accepting Roma from Ukraine, labeling them as "unadaptable."
In July, the Brno authorities in the Czech Republic closed a camp where Ukrainian Roma had sought shelter, going against prior agreements with volunteers. While officials claimed that the closure was due to a lack of demand, volunteers and human rights activists hold the belief that it will leave Roma in dire need without their sole means of receiving aid.
The existence of field camps for Roma refugees has raised questions, particularly with regards to their discriminatory nature. Czech NGOs and activists have pointed out that while tens of thousands of Ukrainian refugees were accommodated in private homes and dormitories, it was predominantly Roma families who were relegated to living in tent camps.
In August, an independent research study by PAQ Research was released, confirming the presence of xenophobia in the Czech Republic directed towards Roma refugees from Ukraine. The study revealed that one-third of Roma refugees had experienced intolerance, and one in six had faced discrimination by authorities. Furthermore, the study contradicted media reports that suggested most Roma refugees from Ukraine held Hungarian citizenship, revealing that only 150 out of more than 5,000 refugees had this status. Additionally, the researchers highlighted that a significant number of Roma children had dropped out of the education system.
As early as December, information regarding Roma refugees from Ukraine had stopped appearing in the media, prompting Czech human rights activists to issue a statement regarding the continued struggles of this particularly vulnerable group of refugees. Due to a lack of humanitarian aid and inaction by local authorities, many Roma refugees were forced to return to Ukraine or leave for Western Europe. Furthermore, these refugees were denied proper medical attention, as staff at refugee centers failed to take them to medical facilities, and Roma children were not able to attend local schools.
The Ombudsman's office conducted an investigation at several refugee assistance centers and discovered discriminatory practices against Roma refugees. Unlike other Ukrainian citizens who could enter registration centers independently, Roma refugees were only allowed entry if accompanied by a non-profit worker or police officer. Additionally, Roma were required to have housing before they could apply for temporary protection, whereas this was not a requirement for other refugees. Although the situation has improved somewhat, discrimination against Ukrainian Roma by both authorities and some citizens remains a cause for concern.
Hungary
As early as April, the independent European media network Euractiv reported that many Roma who had fled the war in Ukraine for Hungary were gradually returning home due to discrimination and denial of humanitarian aid. Upon arrival at the train station, many Roma faced "soft discrimination," and charitable and humanitarian organizations such as the Red Cross often ignored Ukrainian Roma refugees.
The problem was exacerbated by the fact that many Ukrainians of Roma origin did not have proper documents, which was the case for 10-20% of them. Some Roma tried to use baptismal certificates as proof of identity, but these documents were not always accepted.
The independent study "Solidarity with Ukrainian Refugees in Hungary" was published in November, highlighting several issues faced by Ukrainian refugees in Hungary. The researchers identified the reluctance of many humanitarian organizations to house Roma in refugee centers, the lack of a real possibility to rent private housing, a serious lack of information, and, in general, the lack of meaningful assistance from the Hungarian authorities and humanitarian organizations.
The authors of another study by the Romaversitas Foundation drew attention to the problems of Transcarpathian Roma with dual Hungarian and Ukrainian citizenship. In theory, Roma with dual citizenship are entitled to the same benefits and assistance as other Ukrainian citizens, but in most cases they do not receive them.
The situation for Roma children was also problematic, as many Hungarian schools refused to accept them for education. As a result, the Roma were placed in isolated temporary camps, which made it difficult to enroll their children in schools.
The Roma community faced significant challenges in finding employment, particularly for women who often lacked primary education. According to the study, only 15% of the respondents had jobs, which were primarily in roles such as cleaners, kitchen assistants, and elderly care. Furthermore, there were instances of sudden dismissals, working without a contract, and delayed salaries.
Moldova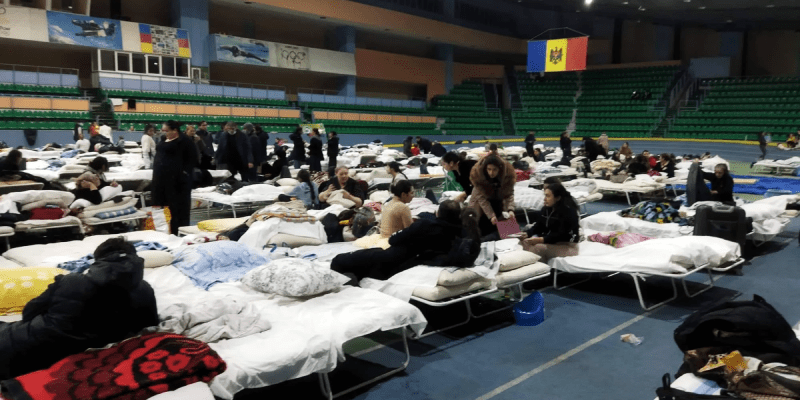 In May, Moldovan media reported that Roma, Azeri, and other minority refugees in Chisinau were mostly housed separately from other refugees arriving from Ukraine. At certain times, unofficial shelters lacked water and basic necessities due to unequal distribution, with Roma refugees being particularly affected.
Roma individuals often face difficulties in accessing humanitarian and other forms of aid due to their lack of Ukrainian citizenship and identity documents. Despite their evident impoverishment, they are often overlooked in the midst of the larger refugee population.
Possible reasons for this treatment include limited funding from the state – which is one of the poorest in Europe – and personal biases of decision-makers.
According to a CNN report on August 22, an abandoned university building in Chisinau was repurposed as a refugee shelter for Ukrainian Roma in Moldova. The living conditions were described as horrendous, with over 100 refugees, almost all of them Roma, forced to share a single functioning tap for drinking water. To address hygiene needs, a mobile shower supplied by UNICEF was placed outside the building. The Moldovan government's Crisis Management Center refuted claims of deliberately segregating Roma refugees from other Ukrainians in the shelter, citing the need to house "large ethnic Roma families" together.
There has been at least one known case of violence against Ukrainian refugees of Roma origin by shelter workers. On August 18, 2022, a violent incident occurred at the FRISPA refugee center, targeting Ukrainian Roma refugees. A staff member used racial slurs against the Roma, leading to a verbal altercation that escalated into physical violence. Guards were called to the scene and further insulted the Roma before deploying tear gas, causing serious injuries to refugees of all ages. Emergency services were called to the scene to provide medical attention. As a result of this egregious incident, a petition was filed with the Prosecutor's Office on September 29, 2022, urging a thorough investigation into the matter and questioning of the victims, with the support of lawyers representing Roma refugees.
Poland
Discrimination against Roma refugees from Ukraine in Poland was first reported as early as March. According to activists who are assisting Roma refugees, they are frequently denied entry to reception centers in Warsaw due to accusations that Roma people exhibit aggressive behavior and engage in theft at other centers. Moreover, Roma are also barred from entering train station buildings under the pretext of preventing theft.
A month later, the number of discrimination reports increased, as activists reported that Roma faced difficulties even at the border crossing. Volunteers, overwhelmed by the large flow of refugees, stopped asking for passports and instead identified Ukrainians based on their appearance. Consequently, refugees who did not fit the Ukrainian stereotype, including Roma, experienced longer wait times to cross the border or were sent to the back of the line.
The widespread practice of segregating Roma into separate, poorly equipped shelters became common. Humanitarian organizations rationalized this segregation as an effort to prevent tensions and conflicts between Roma and other Ukrainian refugees.
Roma faced rejection from both Polish citizens and other Ukrainian refugees. For instance, police officers in Krakow expelled Roma from the train station, citing a perceived risk of theft. Hostel owners also frequently refused to accept or evicted Roma, and volunteers sometimes refused to provide them with necessary clothing. Furthermore, conflicts sometimes emerged between refugees, with Ukrainian women expressing reluctance to share a room with Roma women due to their perceived lack of hygiene.
Many Roma arrived in Poland without passports and were consequently denied help and protection. A group of activists operating in cities across Poland and coordinating through social networks played a key role in highlighting the challenges faced by the Roma community. One of the motivations for forming this specialized group was to separate information about the problems and needs of Roma from general refugee pages.
During the summer, reports emerged regarding discriminatory actions by certain representatives of the Polish authorities. For instance, Wojciech Bakun, the mayor of Przemysl, prohibited a help center from providing aid to Roma. Bakun was elected as the mayor in 2018 as a member of the right-wing populist party, Kukiz'15.
On August 1, 2022, volunteers aiding refugees from Ukraine in Przemysl reported that the head of a humanitarian train from Przemysl to Hannover in Germany barred Roma from boarding the train cars with other refugees.
Finally in November, the Polish Ombudsman took action to address the issue of discrimination against Roma in Przemysl. He brought the situation to the attention of local authorities, urging them to address the housing problems faced by this group of refugees. Additionally, he requested information on the applications made by Roma for assistance, as well as the reasons for any refusals by refugee centers.
Romania
As early as March, reports emerged of problems faced by Roma in Romania. Despite being greeted by volunteers and immediately housed in tents set up by local authorities in Bucharest's train stations, Roma frequently encountered difficulties when attempting to access humanitarian aid.
In August, a Romanian Roma activist spoke out in a CNN report about the discriminatory treatment of Roma by certain charitable organizations. A significant group of Roma refugees lodged a complaint about being denied humanitarian aid in Bucharest. The incident was captured on camera, prompting criticism of the group responsible for distributing the food.
Ukrainian migrants in Russia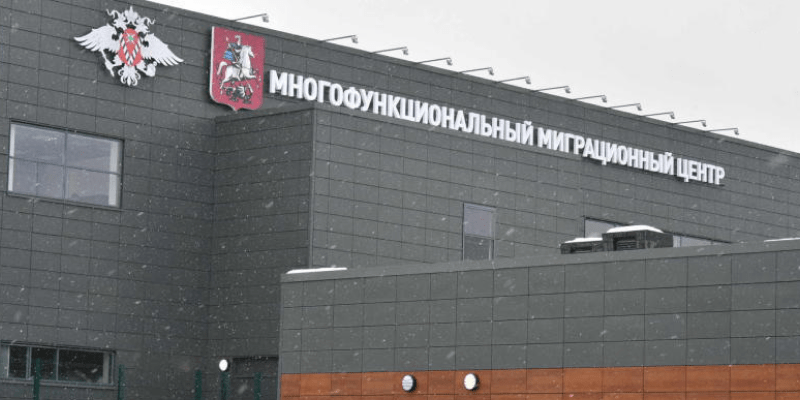 After the war began, citizens and natives of Ukraine residing in Russia became one of the obvious targets of repression. In early March, news emerged that the Ministry of Internal Affairs and the FSB were instructed to thoroughly scrutinize all Ukrainian citizens living in Moscow. According to those Ukrainians subjected to the "check," law enforcement officers did not understand the purpose of these actions. Some were encouraged to obtain Russian citizenship through an expedited procedure, while others had their records fabricated on minor offenses. However, the range of actions was not limited to these two options: police summoned Ukrainians for questioning, inspected their apartments, and demanded access to their correspondence in social networks and messaging platforms.
Workplace repression
Repression against Ukrainians also extended to the workplace. In St. Petersburg, for instance, the administration of a school attempted to terminate the employment of a Ukrainian labor teacher, alleging "propaganda among children." Following his refusal, the school director called the police, who apprehended the teacher in the midst of his lesson.
In late March, it was revealed that Russian IT companies were unlawfully dismissing employees of Ukrainian descent, particularly those with access to vital infrastructure and data. This discriminatory practice primarily targeted firms with state contracts and was carried out under the guise of preventing the "sabotage" of information infrastructure.
Labor patents
Before the war began, many Ukrainian citizens worked in Russia on the basis of labor patents. At the end of March, Deputy Minister of the Ministry of Internal Affairs, Govorova, made a public statement about exempting Ukrainians from the need to obtain labor patents to work in Russia. However, no normative documents were adopted to formalize this procedure. As a result, migration authorities began denying the renewal of documents, while police continued to detain Ukrainian citizens for working without patents, and the courts decided to expel them.
Ukrainians in detention centres
The situation with labor patents was worsened by the fact that it became impossible to deport Ukrainian citizens who were in deportation centres due to expired patents. As a result, by early summer, hundreds of Ukrainians had accumulated in the detention centres throughout the country. Ukrainian citizens who had lost their documents were in a particularly difficult situation. Before the war, employees of the detention centre could apply to the Ukrainian embassy, which provided documents that were used to purchase plane tickets for deportation. However, due to the breakdown of diplomatic relations, this option was no longer available.
At the end of August, a decree was signed and put into effect to temporarily cancel the expulsion/deportation of Ukrainian citizens and remove restrictions on their stay in Russia. It was intended to put an end to the senseless and criminal practice of indefinite confinement in deportation centres due to the impossibility of expulsion. However, the document was drafted in such a way that not all Ukrainians fell under the "amnesty." The decree excluded those who were placed in the detention centre immediately after their release from prison. They were automatically deemed undesirable in Russia and ordered to be deported. The decree also did not apply to Ukrainians who law enforcement agencies could "suspect" of being ready for protest activities. A record in the personal file from the Federal Security Service that a person was suspected of involvement in extremist and terrorist activity on the territory of Russia was sufficient for this.
Despite the existence of the decree, cases of Ukrainians being held in detention centres without any grounds have been reported by human rights activists. For example, on January 13, 2023, the Moscow District Court of St. Petersburg refused to release a Ukrainian citizen who had been held in a detention centre for more than a year since December 22, 2021. Her only fault was that she had lost her documents just before the start of the Covid-19 pandemic while she was in Russia to earn money, and she was unable to obtain a temporary ID card in time to return home. The borders were closed, and transportation was interrupted. Two months into her imprisonment, a full-scale war broke out in Ukraine, making it impossible to recover her documents and return home.
HIV-positive Ukrainians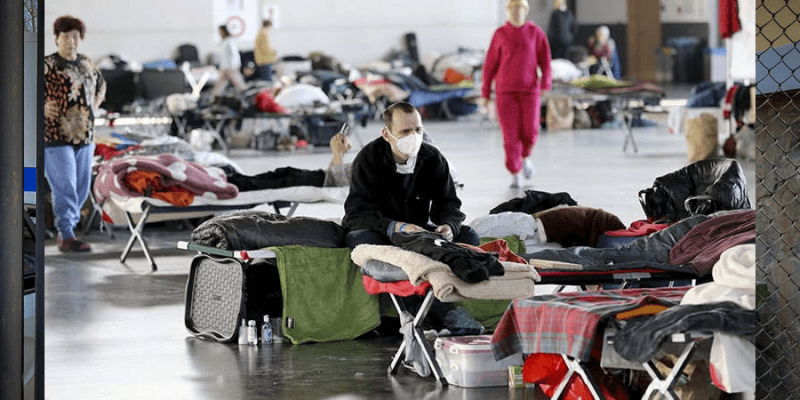 Refugees with Ukrainian citizenship who are HIV-positive have become a particularly vulnerable group. Russian law provides for the expulsion of foreigners with HIV if they do not have close Russian relatives. If state agencies determine that a foreigner is HIV-positive, Rospotrebnadzor makes a decision that his/her stay in the country is undesirable. Fearing deportation and problems with obtaining legal status, refugees with the disease refused to register at AIDS centers and did not receive much-needed antiretroviral therapy. As a consequence, some began to experience health problems that led to hospitalization, while others tried to buy their own medicine or even returned to the war zone.
Migrants in Russia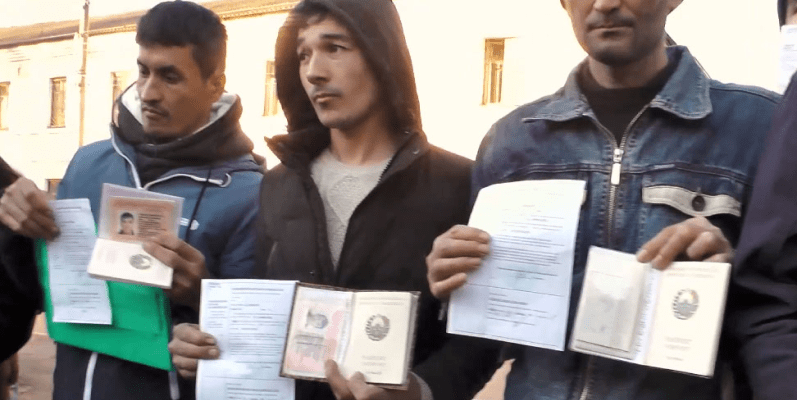 Migrant workers are among the most vulnerable groups in Russia. Due to the lack of jobs and weak economies in their home countries, millions of people are forced to come to Russia for work, where they often become victims of exploitation, corruption, police violence, and racism. Despite the benefits that the state and businesses gain from cheap foreign labor, xenophobic sentiments are widespread in society, and the authorities have made little effort to combat this destructive phenomenon. As a result, anti-migrant populism is an easy way for politicians to gain popularity and loyalty from certain segments of society. In the past decade, Russian authorities have refrained from actively supporting anti-migrant sentiments for fear of extremist political forces rising to power. However, even before the war, the government's stance on anti-migrant rhetoric had changed. Researchers observed an increase in the number of anti-migrant publications in the media and speeches by officials in the summer of 2021, in the lead-up to the State Duma elections. Even after the elections, this agenda did not disappear from official channels.
It's clear that in the midst of the military crisis, the situation of migrant workers would become even more vulnerable for several reasons. These include the economic insecurity of foreign workers and the authorities' attempts to increase the loyalty of the population by promoting xenophobia during political turbulence. However, some aspects were less predictable, such as the active mobilization of migrants to participate in military operations and their use as labor in occupied territories.
Migrants and the Military Economy Crisis in Russia
In response to the military aggression against Ukraine, Western countries imposed numerous sanctions against the Russian Federation. These measures had a shocking effect on the economy: sharp inflation and falling demand led to the closure of many businesses, and the departure of foreign companies resulted in additional job losses. Migrants were among the first victims of these processes.
Unemployment of migrants
As a result of the closure of foreign fast-food chains and the drop in orders due to economic chaos, delivery workers, many of whom are migrants, have lost their jobs. However, the closures were not limited to Western companies, as the entire service sector, which traditionally employs a large number of foreign workers, was affected. The situation was exacerbated by a sharp rise in food prices, which is a key expense for many migrants.
Reducing remittances
The second economic consequence of the Russian economic downturn in the spring was the sharp depreciation of the ruble, which devalued remittances that migrant workers send back to their home countries. For the poorest Central Asian countries, such remittances are one of the most important sources of income. Official data indicates that remittances from the Russian Federation account for 31% of Tajikistan's GDP, although analysts believe this figure is understated because it does not take into account non-banking "grey" forms. In Kyrgyzstan, remittances brought in more revenue than the country's entire export sector. With the fall of the ruble, national currencies also began to lose value, making products more expensive and creating a risk of bankruptcy for the financial sector, as a significant portion of loans were serviced through remittances from Russia.
The dynamics of migration
Experts predicted that job cuts would cause a mass exodus of migrants returning home, further increasing unemployment in countries already grappling with the coronavirus pandemic. And to some extent, these predictions have come true. By early April, 60,000 migrants had already returned to Tajikistan and 133,000 to Uzbekistan. Additionally, 40% of Uzbeks reported to the Agency for External Labor Migration that their reasons for returning home were unemployment and the instability of the exchange rate.
In some cases, the process of returning home created crisis situations. For instance, approximately 700 Azerbaijanis gathered at the border between Russia and Azerbaijan, hoping to return to their homeland. Some were compelled to sleep outside in the snow. The land border with Azerbaijan has been closed since the start of the pandemic (and it remains closed to this day), and restrictions have been placed on air travel.
As some experts predicted, despite the difficulties and dangers, the high level of unemployment in their home countries compelled many migrants to return to Russia. By May, the number of Tajiks leaving to work in Russia surpassed the number returning home. By July, when the ruble had strengthened to pre-war levels, migration levels had also returned to pre-pandemic levels. Claims made by Rosstat regarding the outflow of migrants from Russia were found to be incorrect. The Ministry of Internal Affairs' methodology for recording migrants was the reason for the error.
Recruitment of migrants for war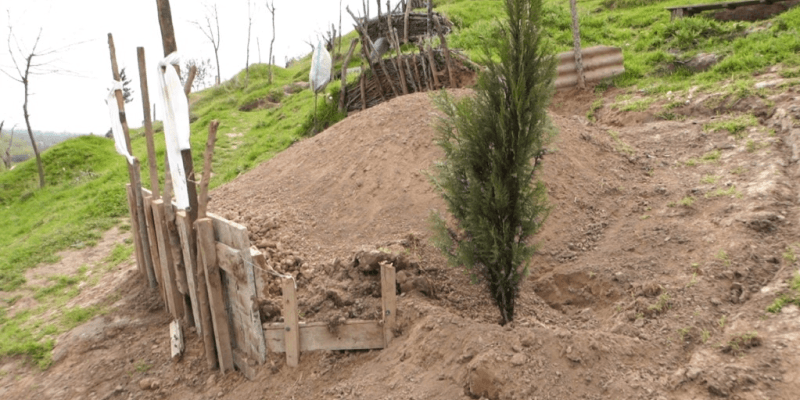 Even with the anti-migrant rhetoric that the Russian establishment began using openly in the early months of the conflict, information about the recruitment of foreign nationals and Russians with dual citizenship began to emerge.
Recruitment of migrants with acquired Russian citizenship
Due to the 2013 amendments to the "On Military Duty" law, foreigners who obtain Russian citizenship are obligated to serve in the Russian military, even if they have already completed military service in their home country. The only exceptions are citizens of Tajikistan and Turkmenistan, as Russia has signed corresponding treaties with these countries.
Following the start of military operations, representatives of the Ministry of Defense began contacting young men with Russian citizenship from Central Asia, threatening to revoke their citizenship if they avoided military service. However, even individuals above the draft age were summoned to military enlistment offices and threatened with citizenship deprivation.
Recruitment of migrants with the promise of citizenship
Another at-risk group was migrants who intended to obtain Russian citizenship. In December 2021, President Putin presented a bill to the State Duma that aimed to simplify the process of acquiring Russian citizenship for contract servicemen in the Russian Armed Forces. The bill sought to reduce the application period from one year to three months. Although the bill was not officially adopted at the time, recruiters reportedly promised migrants that their citizenship applications would be processed within three months of signing a contract. The law was eventually passed in September 2022.
The difficult economic situation, coupled with promises of high salaries, played a significant role in the recruitment of migrants by the Russian military and private military companies. Representatives of the Ministry of Defense advertised salaries of up to 200,000 rubles per month, which were much higher than any other job available in the region. In July, it was revealed that the private military company Wagner was also advertising positions for private security contractors with unrealistically high salaries in social media in Central Asia. However, when applicants called the number, recruiters offered them to participate in combat operations on the side of the Russian Federation. Interested individuals were invited to the village of Molkino, where the PMC base is located.
Recruitment of migrants serving prison sentences in Russia
The third risk group consisted of migrants in detention, who were recruited for military service in the ranks of the Wagner PMC, which actively recruited soldiers from among prisoners. According to reports from relatives of convicts, promises of release and financial rewards were used, as well as torture, to coerce individuals into joining. By the end of the year, it had been confirmed that citizens of Tajikistan, Kyrgyzstan, and Uzbekistan who had been recruited in Russian prisons had been killed in the conflict. The total number of Central Asian citizens participating on Russia's side is unknown, but Ukrainian sources estimated their number to be around 6,000 before the mass mobilization in the summer.
The situation regarding migrant recruitment for military service worsened after the announcement of mobilization. According to media reports, migrants from Uzbekistan, Tajikistan, and Kyrgyzstan working in Russia began to receive summons to join the military, despite the fact that they do not have Russian citizenship. Additionally, the Moscow authorities opened a recruiting center at the Sakharovo migration center.
In early 2023, cases of Tajik and Kyrgyz natives with Russian passports being banned from leaving Russia became known. They were informed that they were on mobilization lists and for this reason could not leave Russian territory. A few days earlier, Alexander Bastrykin, the chairman of the Russian Investigative Committee, made a statement suggesting that naturalized foreigners have a constitutional duty to participate in combat operations, and that they should be given priority deployment to the front lines.
Human rights activists and lawyers draw attention to the fact that, according to the legislation of many countries in the region, participation in military actions against Ukraine can be considered mercenary and punishable by criminal responsibility.
The need for foreign workers
One of the results of the mobilization was the reduction in domestic labor resources, which only increased the need for foreign workers for the government and businesses seeking to make up for the shortage of goods caused by international sanctions. However, at the beginning of the year, a shortage of workers in some industries was observed. This was evidenced by the expansion of the list of professions for which employment quotas do not apply to foreigners from visa countries.
Use of migrant labor in the occupied territories
But the use of migrant labor was not limited to replenishing the human resources within the country that had dropped out because of the war. Russian authorities, through intermediary businesses, began using migrant labor for construction work in the occupied territories. This practice became known after the media published complaints from migrants about wage fraud. Thus, workers from Tajikistan sent by Russian construction companies "to rebuild Mariupol" complained that their salaries were delayed or not paid in full. In February 2023, the media reported that migrants were used not only to rebuild destroyed cities, but also to build military fortifications. For example, workers from Tajikistan and Uzbekistan complained to the police that they had not been paid for building trenches in Zaporizhzhia region.
The work in the occupied territories poses not only ethical issues but also legal ones. The legal status of foreign workers is unclear since their presence on Ukrainian territory without permission from the Ukrainian authorities is already a crime. Additionally, the proximity to military operations creates real risks, especially in the absence of any guarantees from employers.
Indigenous Peoples of the Russian Federation
While the primary victims of Russian aggression were the residents of Ukraine, the conflict also posed a threat to the situation of indigenous peoples residing within the Russian Federation.
As early as March, Pavel Sulyandziga, an expert on indigenous peoples, had already predicted that military aggression and the subsequent transformation of the Russian regime would have a detrimental impact on indigenous ethnic groups:
The Russian state's withdrawal from international legal institutions will only exacerbate their indifference towards the rights of indigenous peoples.
The economic hardships brought on by the conflict will make it difficult for indigenous peoples to access vital goods and services, particularly medicines and medical treatments. This issue is compounded by the fact that indigenous peoples often reside in remote regions, making it even more challenging to obtain necessary resources.
The main danger, however, lies in the recruitment of young indigenous individuals into the army. Due to their limited knowledge and awareness, they may not fully realize the potential risks involved. Moreover, high levels of unemployment within these communities create strong incentives to join the military. The death of even a few young individuals can be a significant loss for these small, often thousands or even hundreds-strong, indigenous communities.
The accuracy of the last prediction was confirmed in April, when journalists became aware of the first data on the losses of Russian troops. Based on official sources and regional media, the Russian BBC compiled a list of names and regions of 1083 soldiers who died in Ukraine. As a result, five out of ten regions with the highest registered number of losses among conscripts per capita turned out to be "ethnic" republics, which are also characterized by a high level of unemployment among the local population.
The situation worsened with the announcement of "partial mobilization" in September 2022. A disproportionate number of people were mobilized in Crimea and Russian regions with large indigenous populations, such as Buryatia, Sakha, Dagestan, Yakutia, Tuva, Khakassia, Kalmykia, and Chuvashia.
The criminal war in Ukraine was a disaster not only for millions of Ukrainians, but also for the peoples of Russia, even those who live in the harsh conditions of the Far North, Siberia, and the Far East.