Dopady sibiřské zlaté horečky:
Současná těžba zlata na Sibiři má dalekosáhlé ekologické i sociální důsledky. Nejde přitom jen o devastaci divoké přírody, ale také o ničení kultur původních kmenů. Ruské úřady nicméně nad katastrofickou situací spíše zavírají oči.
Ruská Sibiř představuje řadu příležitostí pro získávání přírodních zdrojů, v nadsázce se někdy dokonce říká, že se zde dá najít celá Mendělejevova tabulka. Kromě drahých kovů je Sibiř také regionem dřevozpracujícího průmyslu, zdrojem vody (jezero Bajkal je největší zásobárna pitné vody na světě) a nacházejí se zde i ložiska ropy, uhlí či zemního plynu. V nedávné době se následkem globálního oteplování a tání permafrostu dokonce začala objevovat pravěká slonovina v podobě kostí prehistorických zvířat, jejichž hodnota atakuje astronomické částky především na asijských trzích. Dobývání všech zmíněných komodit a zejména drastický způsob, jakým je těžba prováděna, představuje jednu z největších ekologických katastrof současnosti.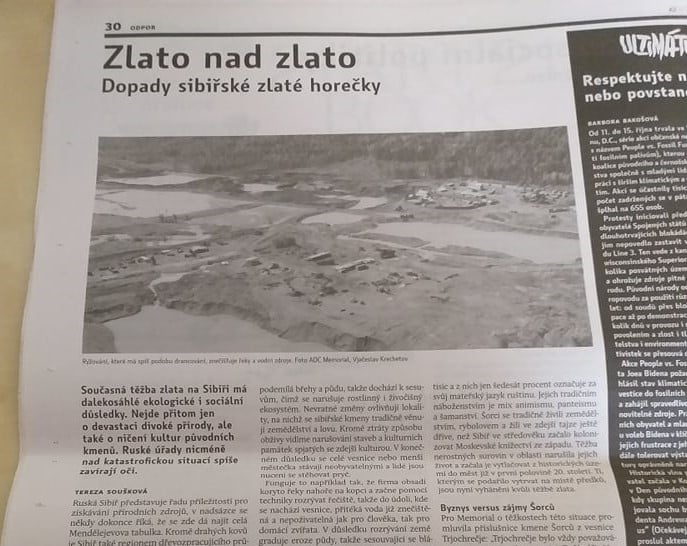 A2 kulturní čtrnáctideník (A2 cultural biweekly) is a Czech journal that reflects culture in the broad sense of the word, including articles on social events and politics and focuses on how these two spheres – culture and society – organically intertwine.