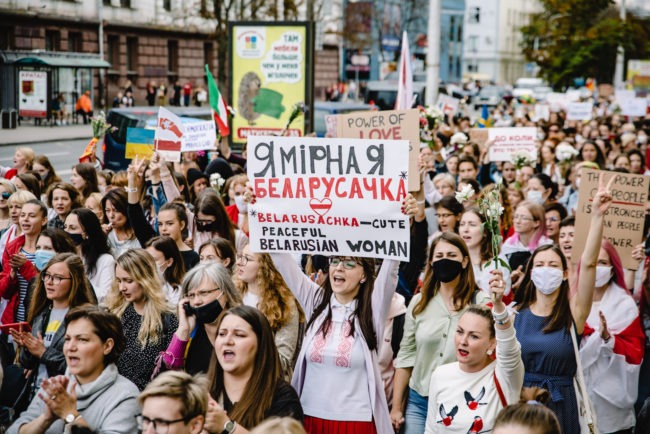 "Svyatlana Tsikhanouskaya was the first woman to be elected president in Eastern Europe." This is what I hope I will soon read on Wikipedia. But, more importantly, I would like to read that the "women's protests" changed Belarusian society and swept away entrenched sexism and gender stereotypes by showing what equality can look like in practice. This is exactly what inspires me in the "female" face of the Belarusian revolution.
In spite of a professed policy of gender equality, Belarusian women do not enjoy it. Alexander Lukashenka has based his social policies on the patriarchy, guardianship of women, and a higher birth rate, which has only served to deepen existing stereotypes and inequalities. In Belarus, women are still prevented by law from holding 181 jobs in 42 different fields because of an alleged risk to their reproductive health. Deputy Minister of Labor and Social Protection Alexander Rumak believes that "keeping [this list] corresponds to the state's priority to protect the health of workers and women in particular, given the current demographic situation."
Over 85 percent of women in Belarus are employed in the low-paying fields of healthcare and social services, and the salary gap between men and women stands at approximately 20 percent. The level of domestic violence against women and children is high: According to official statistics, law enforcement bodies receive thousands of complaints a year. In 2018, Lukashenka dismissed a draft law to combat domestic violence that had been developed by police bodies and non-governmental associations with the words "This is all nonsense taken from the West." Lukashenka has also prevented women from taking an independent role in governing the country. His team includes Natalya Eismont (press secretary), Natalya Kochanova (head of administration), and Lidia Yermoshina (chair of the Central Election Commission), but he does not appoint women to positions that require independent decision-making.
In addition, he believes that women cannot compete against him in a political fight. When international pressure forced Lukashenka to demonstrate that the 2015 parliamentary elections were "democratic," he allowed two female opposition politicians (Anna Konopatskaya and Tatyana Korotkevich) to be elected with the assumption that they would not present any danger to the regime. And this is exactly what he assumed this year. But this time, he was wrong.
None of the three main alternative male candidates – Viktor Babariko, Siarhei Tsikhanouski, and Valery Tsepkalo – were allowed to participate in the election. Svyatlana Tsikhanouskaya was registered as what amounted to a dummy candidate at the last minute in place of her husband, Siarhei Tsikhanouski; at the time, she did not seem like a threat to the regime. Several months later, millions of Belarusians believe that she won the presidential election. The problem, however, isn't just with Svyatlana, who traveled the path from wife, mother, and housewife (this is what she based her participation in the campaign on) to politician in a short time, but with the political emancipation of hundreds of thousands, if not millions, of Belarusian women. Women have started to reclaim a position for themselves in politics and society with various roles and ideas.
The first major step in this direction was the creation of a joint campaign headquarters, which at that time was already represented by three women from different campaigns: Svyatlana Tsikhanouskaya, Veranika Tsepkala, and Marya Kalesnikava. I don't know if three men with varying narratives and target groups could have joined forces in this way. After banding together, this "female trio" presented a straightforward shared program: we will come to power to hold a new, fair election – and presented this with simple branding (❤️✊?✌?) and the idea of "women's" love for the country and the people. This message resonated with hundreds of thousands of citizens: Thousands of participants gathered at every campaign meeting and the group's symbols became among the most recognized. Svyatlana, Marya, and Veranika, who had become leaders almost by accident, began their transformation into independent politicians.
But the unprecedented violence and heavy-handedness of security officers seen on the streets of Belarusian cities from August 9–12 – the killings, torture, and mass arrests – were what conclusively roused women to come out onto the streets. On the fourth day of this nightmare, hundreds of women in white clothes carrying flowers came out in the center of Minsk and then in other Belarusian cities. After three nights of protests and clashes with the police, these actions took on the new form of people coming out onto the streets in the middle of the day, faces uncovered, carrying signs and ready for arrest. Now people throughout the country have been coming out onto the streets to express their protest in various forms since August 12.
Yes, it is true that the first appearances of the joint campaign headquarters and the first protests made use of stereotypical female imagery (beautiful, loving women in white dresses, barefoot with flowers, embracing OMON fighters or singing lullabies) and even patriarchal models ("There's no winning love by force," "Beating is a sign of love?"). But feminist marches and rhetoric gradually started to appear, and calls became more varied. The last week has seen the mass arrest and beatings of women, who have started to display aggression towards security officers.
The boundaries between male and female styles of behavior and the stereotypes behind them have been washed away. Women have started to take actions that have usually been deemed male. Marya Kalesnikava tore up her passport and voluntarily went to prison, Svetlana Alexievich has remained the last representative of the Coordination Council presidium and has no intention of leaving the country, and Nina Baginskaya continues to fight against and scream at OMON officers, protecting the red and white flag and other protesters.
Sensing their impotence, the Belarusian authorities have recently started to make every effort to suppress the protests, including by searching for and taking repressive actions against the organizers of the women's protests, Which is who our colleagues at the Center for Promotion of Women's Rights – Her Rights and the center's founder, Sasha Dikan, were declared to be. Sasha's husband, Viktor Kuvshinov, a senior manager at the IT company PandaDoc, was arrested along with three other colleagues in a fabricated criminal case and may be falsely accused of financing the protests.
But the authorities still cannot get it through their heads that the protests were provoked by their very own actions and have not been organized by anyone and that over the past month people in Belarus, and especially women, have recognized that they are subjects in politics and society. However many people the authorities arrest, however many they beat, however many they drive back, hundreds of new people will fill their places. The battle for justice has wiped away stereotypes and united different groups of Belarusian people – women and men, young and old, people from different professions and social classes. Every new day has shown how preposterous the idea that there is anything that women cannot manage is.
Eugenia ANDREYUK
First published on the blog of Radio Svoboda
Photo from the Her Rights Center fb-page